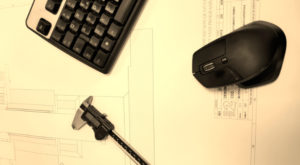 The study of the equipment is done with the utmost care and attention on 3D platforms such as: Unigraphics, SolidWorks, Vero International. The great experience of our technical personnel, together with the potential of modern 3D software allows conceiving and manufacturing equipment of outstanding quality and reliability.
Interfacing is guaranteed with all major design systems available on the market.
Computerised plate simulation, performed using AUTOFORM, represents, in the drawing process, a unique and crucial tool for determining and studying piece feasibility, thereby finding any critical points and providing the customer with a successful end result (see video).
The choice of materials and their heat treatment, together with strong experience in the sector allows finding constantly new technological solutions which translate into advantages for our customers.
All the equipment components are individually designed and coded to ensure easier identification in case of maintenance and for the production of spare parts. 
The study of the work cycle and the preparation of the machine tool programs is done using CAM 2D/3D (PAW, Visi, Peps, etc ) systems which exploit cutting-edge high-speed operating technologies.